For current news click HERE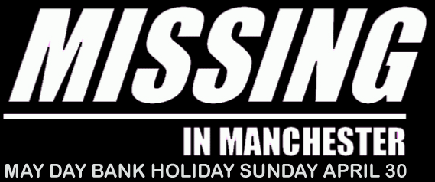 - SIX ROOMS - MORE THAN FORTY DJs - EIGHT LIVE BANDS- LOADS OF LIVE ACTS- ONE ALLNIGHT PARTY-
Jilly's Rockworld & The music box combined into one huge maze of a party
GASHcollective Main Stage Line Up:
See the MISSING WEBSITE for more info and Tickets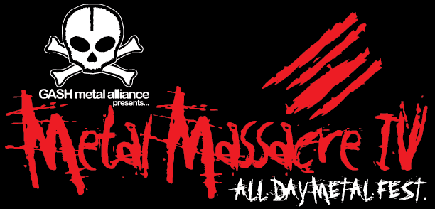 SUNDAY APRIL 9
Click the image above for more info

The clown fest was a massive success, and the police politely shutting down the party at 6am didnt put a downer on things at all.
We got away with ALOT that night... it was fantastic.
We need pictures so PLEASE get intouch and send them in if you have any.
GASH are taking a few weeks off to regroup and plan more world domination.
Weve got some truly evil stuff planned, and it will all be announced in good time.
Dont forget MISSING on April 30...
and the GASH metal alliance alldayer on April 9...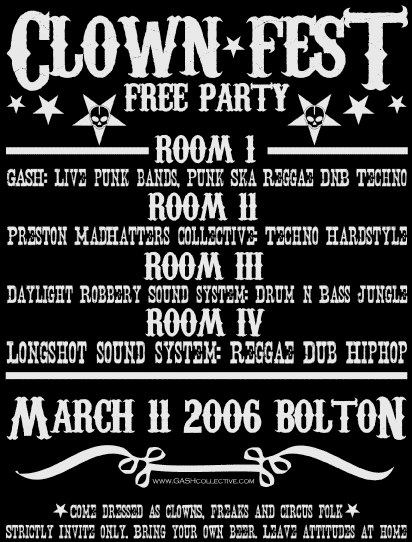 - WEDNESDAY FEB 22 -
ROCKWORLD/MUSICBOX - GO MISSING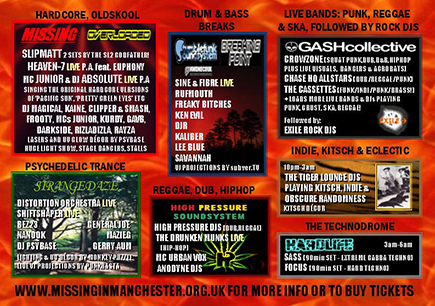 GASHcollective Live Band stage:
SONIC BOOM SIX - Manchester Ska/Punk/DnB Legends
THE DANGERFIELDS - High voltage punk rock from ireland
CROWZONE - Squat Punk/Dub/DnB/Hip Hop From Brighton
CHASE HQ ALLSTARS - Dub/Reggae/Punk
THE CASSETTES - Funk/Punk with Brass
GEEK GIRL - Folk Punk Lovelyness
+ Guests

Ska/Punk/Reggae by DJ Kamakazi - Live VJ Visuals by SCRAP & Guests

For more info, see the official MISSING website.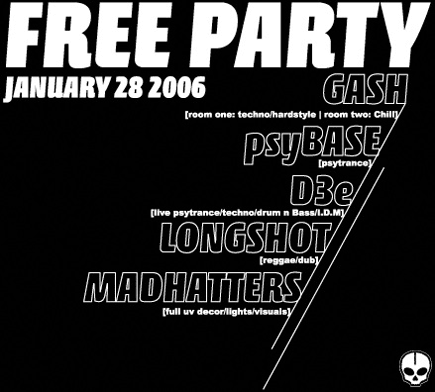 Strictly Invite only - Get intouch

Merry Xmas and a happy new year to one and all, From the GASHcrew...
GASH are gonna be bringing you some of the biggest parties we've ever done
this year... So watch this space.
Loads of photogalleries, New features and GASHcasts to go up on the website in the comming weeks.
We're going HERE for newyears eve... Come with us...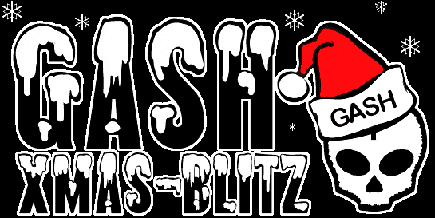 -Punk/Ska/Reggae/Dub/Jungle/Psy-Trance/Live Electonica/Sex/Death-
LIVE BANDS / DJs / FESTIVE GASH CHAOS
LIVE BANDS:

REGATTA 69
Punk/Roots/Reggae/Ska from AMERICA

CELT-ISLAM SOUNDSYSTEM
Live Jungle/Dub/Electonica

KAMIKAZE SPERM
Rockabilly/Punk/Ska Nonsence

FREAKY FORTNIGHT
Punk Rock/Blues from Wales

PLASMA STORM
Live Psy-trance/Electronics

+ LOADS more Bands

DJs:

DJ CIDERSPILLER & CREW
punk/ska/reggae

JQ & CHRIS OD
Hard Techno sessions

SPECTRUM CITY
Dub/Breaks

+ Guests
LIVE VIDEO PROJECTIONS by OPTIC ALCHEMY
SATURDAY DECEMBER 3rd - 2005
-7pm Start-

Prizes for best Xmas costumes!

FREE ENTRY
INVITE ONLY - Please Get intouch for an invite.

NEWS FLASH
GASH are doing a punk room at a big Multi-Room warehouse party in Sheffield on December 10
If your interested in coming with us, Get intouch.

Loads of Live bands including THE BLACK BATS, CELT ISLAM, SLASH MONKEYS, POWER CURRUPTS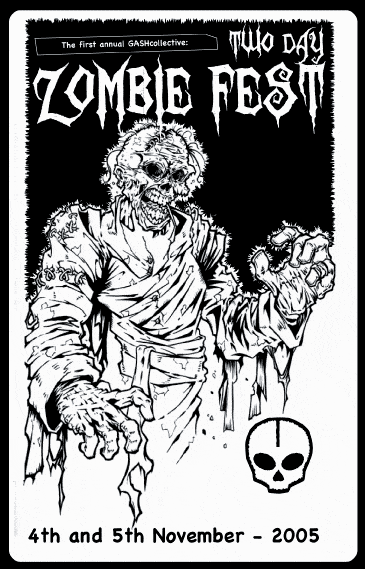 Friday 4th and Saturday 5th November - 2005
- Invite only - Get Intouch-
FREE ENTRY

DAY ONE - November 4th - First Band, 7pm...
Get to the venue nice and early in search of fresh brains. Here comes the metal:
SQUALBALKUS - Hyper Blasting Blood Spitting Grindcore Legends
HEAVEN BLEEDS - Heavy Sludge / Grind from Wigan
DEAD EYE - Midlands Metal/Hardcore - Think Machinehead
ONE UNDER - Somewhere between Metallica and Soulfly
PRIMAL DOMINATION - Superjoint Ritual style metal
INTELLECT OF A FOETUS - Noisey Thrash/Metal
ABBERRATION - Metal

DAY TWO - November 5th - 12pm start - First Band 6pm
We will be showing ZOMBIE films, Giving away free food, hangover cures and
kicking off in the early evening with the Punk:
THE BLUNTS - Leather jackets and big shoes - bringing rock n roll back to the people
FISHKING - Trippy/Dubby/Drum n Bass/Dreadlocked/Gumbys
DOGBITE - Essex streetpunk/oi! meets oldskool uk 82
NICE PETER - comedy acoustic rock from AMERICA
BOREDOM - 77 style punk from Blackburn
THE LIBERATION - SkaCore/Punk From Surry
FUKAWI TRIBE - Special brew fueled punk rock
COME DRESSED AS THE UNDEAD
Prizes and free stuff for the best dressed ZOMBIES - Bring Halloween decorations, Zombie DVDs and Stuff...
- ZOMBIE BANDS / ZOMBIE DJs / ZOMBIE GAMES / ZOMBIE SEX / ZOMBIE DEATH -


6 rooms of total MADNESS!
CLICK HERE FOR MORE INFO

comments

September 24 Party Photo Gallery online!


THE ANGELIC UPSTARTS
THE Working class punk veterans THEMSELVES. What can be said about this LEGENDARY band!?
SQUALBALKUS
Blasting Political Grind/Crust Brutality
THE CUNTS
Punk/HC/Ska from down south
FORCED ENTRY
Boltons own Punk/Crust Legends
KAMIKAZE SPERM
Punk/Ska/Oi Crazy People
FRIDAY SEPTEMBER 30 - 2005
6pm till LATE - Be nice and early.
BREIGHTMET LABOUR CLUB - BOLTON
Click HERE for Printable flyers - and HERE for printable Maps
COMMENTS / REVIEWS HERE

SATURDAY SEPTEMBER 24 - 2005
- TOP FLOOR -
Horwich Dirty Trancers Vs D-3e:
PsyTrance, DnB, Techno, Hardstyle
- MAIN ROOM-
Preston MadHatters: Smiley Techno, Psy & Hardstyle
- GASH STAGE -
LIVE Techno/Breaks/Trance From EMMET, PLASMASTORM
SPECTRUM CITY, BURT FOGG + Loads More
- BASSMENT -
LONGSHOT soundsystem: Reggae, Dub, Ska
- INVITE ONLY -
This Party Was PERFECT in every way... Thank you SO MUCH to eveyone involved, and all you crazy party people that came down.

THE PHOTO GALLERY IS ONLINE HERE
Please your reviews on the forum and email us your pictures.

GIG ON A BOAT
GASH going down to Falmouth to organise a
Punk gig on a boat!
come with us!

The DEMOexchange Page is up and running, Please check it OUT. There are still some things that need fixing and improving, and we will be working on it over the next few weeks. Get Uploading your demos!


FREE ENTRY
IRON BITCH FACE - Grinding Satanic Comedy Noise From CANADA
SQUALBALKUS - Blasting Sub-Bass UK Grindcore
IN PAIN DIE - Scouse Metallic Grind, First Gig with New Line Up!
INTELLECT OF A FEOTUS - Bolton's own Feotus Metal
+ GUESTS
Comments/Reviews HERE

We have spent a few weeks off to concentrate on other projects, and to go to other parties. We are back in the game, and hitting it HARRD in semptember.

We are working on a new feature for the website. A DEMO EXCHANGE page, Where people will be able to fill in a form, and upload Mp3s that will automatically appear on the downloads page. Hopefully 100's of bands and DJs will submit their demos and people will be able to download tonnes of free music from the GASH site.
The PodCasting project is up and running... Jonny Has been submitting shows from sunny france... Any Budding DJ's out there fancy submitting a cast, please get in touch.

We are starting GASHcast, a new podcast downloadable radio station. Podcasting is a feature in the new version of itunes and it allows you to subscribe to loads of radio style shows for free.
GASHcast will have all different kinds of music, submitted by all different people. It will also include demos from local bands, videos, and anything else we can think of.
There will be something for everyone, From Techno and Trance, to Punk and Metal.
The shows will be downloadable from this site, but to subscribe you will need itunes (which everyone should be using anyway, because its by far the best way of organizing your digital music) Its free to download from HERE, give it a try.
We are looking for people interested in submitting some GASHcast shows- Get in touch.
For more info Click HERE - or the GASHcast link in the menu.
Comments HERE

The last two Partys have been amazing, Thanks to everyone who came down, Particularly all you PIRATES!

THE PIRATE BALL PICTURES ARE UP!!!
CLICK HERE.
If anyone has any more pictures - send em in.
The Punk Party Gallery will be up soon.
Post your PIRATE BALL reviews here, & your PUNK PARTY reviews here.
The free party planned for the 30th has been put on hold. instead:
This saturday (JULY 30)
We are organizing a verry civilized Veggie BBQ / Meeting, in the lovely garden of our sexy new office.
About 2pm
There will be FANTASTIC free food & we can plan world domination.
Then its off to the pub for Colin's gig, and probably an after show party of some sort.
If anyone in interested in coming, get in touch, we need too know numbers, as space is very limited.
quaff quaff....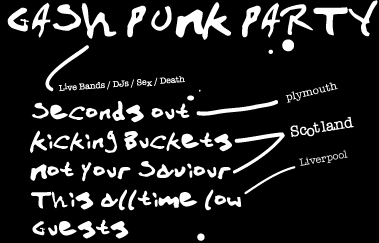 FREE ENTRY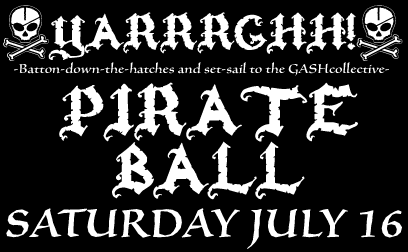 PUNK PIRATE PARTY
- LIVE BANDS O' BLOOD-THIRSTY SAVAGES -
- DJs Playing the best in Black Hearted Sea Shanties & Punk Rock -
- Prizes for Ye Best & Worst Pirate / Mermaid Costume -
- Pirate Games / Heavy Grog Swilling / Sex / Death -
FREE ENTRY - INVITE ONLY
BANDS CONFIRMED:
PUGATORY STATE
BUNNY BOILER
ALL OR NONE
FAILURE BY DESIGN
INDENIAL

GASH have taken a few weeks off to go to other peoples partys.
Its been fun... But We're BACK IN THE GAME!
Its SUMMER everyone! WOO!
Loads of amazing GASH Free Parties and Gigs comming up.

A new Batch of T shirts are being printed, If you want one, Get in touch.
MySpace is doing well, and proving to be a great way of booking bands,
Making contacts and sending out invites.
Get on the forum everyone, and have your say.
See you all soon!

JULY 2
GASH FUN-BUS TO THE G8 SUMMIT IN SCOTLAND...
Show them we want an end to poverty, globalisation and lies...
Get your ass to what could possibly be the biggest protest ever.

SATURDAY JUNE 4
GASH are doing the Live Stage at a MASSIVE Warehouse party
Stunningly beautiful location featuring a mixture of indoor and outdoor music stages
Friendly fluffy people and a vibrant, welcoming atmosphere!
Easy access by public transport from central Manchester
Multiple soundsystems covering ALL styles of underground dance music including:
Upfront Hardcore, Psychedelic Trance, Techno, Happy Hardcore, Oldskool, Breaks, Hard House, Trance, Reggae, Chillout etc.
Live Punk / Ska / HC bands.



Gutted everyone! This party would have gone down in History, A MASSIVE
amount of time, effort and money went into this project, from all the collectives involved,
and sadly, it was foiled for the want of a couple more minutes :(
A full report, and Photo Gallery will be up soon.
KEEP THE FREE PARTY VIBE ALIVE!!!
comments

I lost my camera with all the pictures of Thursday and Fridays gigs
If you have ANY photos, Please send them to us.

GASH Present a night of PUNK ROCK / SKA / SEX / DEATH and HEAVY DRINKING
Featuring the Musical Stylings of: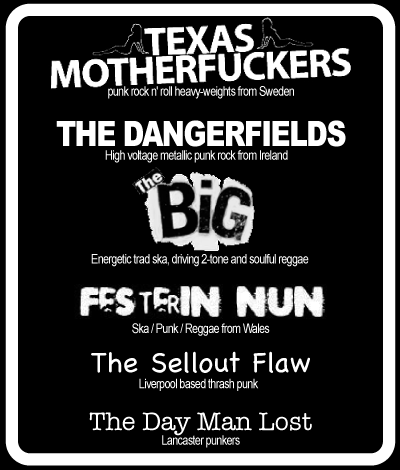 THURSDAY MAY 26th 2005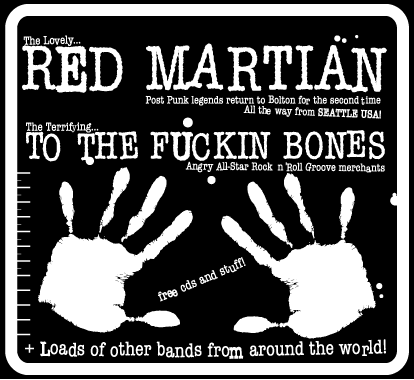 Saturday May 28th 2005

GASHcollective on MySpace.
MySpace is a bit Gay... But its MASSIVE and very is usefull for making contacts & sending out invites.
The GASHpage is here: myspace.com/GASHcollective
If your already signed up, then please be our friend.. If not.. Why fight it?? Get signed up now.


MAY 1st
Whether your going to The Hyperjax at the Alma, or to Conflict at jillys Rockworld,
Get down to the GASH Mayday after show party.
Punk / Ska / reggae DJs
Late night drinks
Nice select crew of drunk punks and friendly alcoholics

SATURDAY APRIL 23
*GASH FUN-BUS*

GASH will be running the *GASH FUN-BUS* to the HARDLIFE allnighter in Bradford.
Were gonna decorate the bus, and have fun/games/music/shit loads of beer all the way to bradford.

A great gig! Read/Post reviews here.
Picture Gallery up.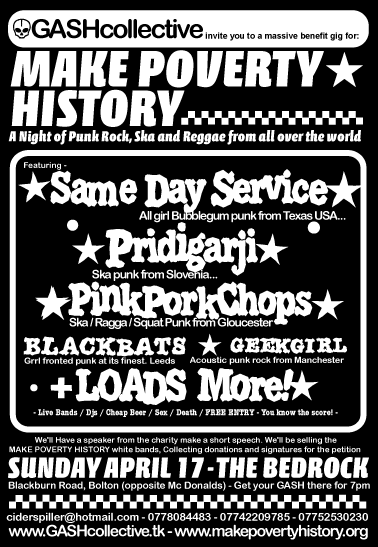 A night of Punk Rock, Ska & Reggae from all over the world...
We will be selling MAKE POVERY HISTORY Wrist Bands, Signing the Petition, collecting Donations, Having a Speaker from the Charity do a short speech and getting Royally pissed - All in aid of MAKE POVERY HISTORY......
THE LINE UP:
SAME DAY SERVICE [All Girl Bubblegum Punk from Texas USA]
PRIDIGARJI [Ska Punk from Slovenia]
PINKPORKCHOPS [ska/Reggae/punk from Gloucester]
BLACKBATS [Awsome Grrl fronted punk from leeds]
GEEK GIRL [Accoustic punk rock from Manchester]
+ Acoustic sets from SAMANTHA COURT

FRIDAY APRIL 1

FIRST ANNUAL GASH BASH BOSH BALL
Invite only extravaganza celebrating one of the many anniversarys of the GASH.
Featuring:
LIVE BANDS, BIG NAME DJs, STRIPPERS, CAGE DANCERS, STILT WALKING TEQUILA GIRLS,
JUGGLERS, CIRCUS PERFORMERS AND....
FREE BAR ALNIGHT!!

SATURDAY APRIL 2
GASH presents:

[collision] Vs D3MOLITION
burt fogg - luke winds - liam b - marv knight + more tbc
The BASEMENT @ Scubar, oxford rd , manchester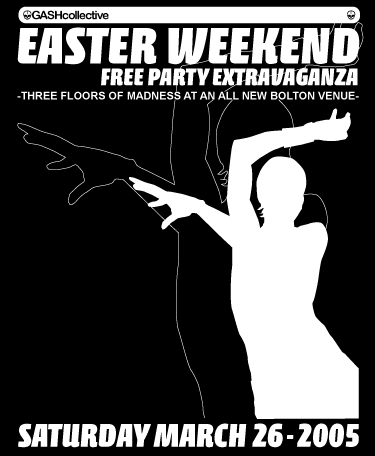 ANOTHER MASSIVE SUCESS!
THANKS SO MUCH TO EVERYONE WHO CAME DOWN, AND EVERYONE INVOLVED! Post your reviews in the forum!
PHOTO GALLERY UP!
VIDEO UP!!
please email us your photos!
Live Ska & Punk Bands / Hard Techno & PsyTrance Sound Systems / Chill Out Rooms
DJs and Sound Systems from such famous organisations as:
PsyBASE/Preston MadHatters/
Sheffield TechnoMedics/FATMOON/FuzzyLogic/HARDLIFE/GASH

GASH Punk BASH
This Sunday GASHcollective Present...



This Sunday, March 6th! 8pm SHARP!
At the GASH Punk BASH!

Truly Fantastic Punk Rock from Austria. Rentokill stop off in Bolton halfway through their MASSIVE European tour!!! For more details checkout the excellent site at www.rentokill.com

THE ARGUMENTS - Fast Punk Rock from Sheffield
THE MINIONS OF JEFFERY - Local Ska-Punk Celebrities
FALSE IMAGE - Melodic Punk Rock
+ Guests!
Post your reviews here.

GASH EVENTS 2005
Its a new year, the year of the GASH.
We have loads of evil stuff planned.
We REALLY want to hear from YOU!
Get involved! Get on the forum! A party a week is our goal, but we need your help!
ANY IDEAS, GET IN TOUCH!

GASHcard & Rock Night Postponed
Due to disagreements with the management, the GASHcard has been put on hold for now. Thanks to everyone who turned up last week and we can only apologise. As far as I know people had a good night anyway. We tried our asses off to get this thing to work but we can only do so much ourselves with out the co-operation of other people involved in the scheme.
We'll let you know as soon as things change.

X-Mas Blitz Gallery
The GASH X-Mas Blitz 2004 gallery is now online for your viewing pleasure. We have some great photos this year. We had problems with quite a few of them though due to the smoke machine being insane. If your pictures not on, sorry. Enjoy.
Post Your Blitz Review!
Come and read some reviews of the GASH X-Mas Blitz and post your own at the GASH Forum.

XMAS BLITZ A RAGING SUCCESS!!
The GASH XMAS BLITZ went without a hitch!
The Place was PACKED, All the Bands Turned up and played BLINDING sets.
The mosh pits were terrifying, The beer was flowing and a GREAT time was had by all.
The guys from PsyBase Came down and knocked out some Banging tunes,
There where Bands, Djs, Fire Spinning, Dancing, Sex/Death and Festive Cheer all Round.
If you missed this, you REALLY did miss out!
Thanks to everyone who came down and partied (especialy those who stayed for the duration)
Thanks to all the bands and everyone involved!
A HUGH thankyou to Ste, for making it all possible.
NEXT GASH PARTY COMMING SOON!!!
(get involved! any ideas, get in touch!)
PHOTO GALLERYS UP!!!!

We will be updating the information about the Rock Night & GASHcard soon, please bear with us.
Remember it's GASH X-Mas Blitz tonight (18/12/04)

BANDS THAT HAVENT DROPPED OUT YET:
XMAS PUNK Vs. METAL BLITZ
GROGAN [Fast melodic punk rock from ipswich! Not to Be Missed!]
GEEK GIRL [Fantastic girl fronted 'county punk' band...www.thegeekgirl.co.uk]
FORCED ENTRY [Punk Veterans]
SQUALBALKUS [Blasting Hate since 1999]
DISPLACEMENT [Boltons Metalilc Monsters]
INTERLECT OF A FEOTUS [duel vocal black/thrash Bolton newbies]AGAINST THE GRAIN [Local Heavy Mosh Heros]
SAMANTHA COURT & Friends [accoustic sets and sing-a-longs in the 'second room']
+ SECRET SUPRISE GUESTS!!!?
SPREAD THE WORD - LETS PACK THE PLACE!

www.GASHcollective.tk
Here's is the second revamp of these pages ready for the new GASHCard launch. The new GASH address is www.GASHcollective.tk but you can still get to it the old way as well. More information coming soon (as soon as I get or as soon as Martin remembers his password)

GASHCard & X-Mas Blitz 2004
GASHcard Launch Party>>
LAST ORDERS PUB (Bradshawgate, Bolton)
THURSDAY DECEMBER 16th.
7pm....
[GASH ROCK NIGHT EVERY THURSDAY! ALL DRINKS ONE POUND (with a GASHcard) Djs/Sex/Death!]
GASHcard are FREE and get you loads of deals.. Pound a pint at LAST ORDERS/10% Off at BOOTHS/POUND OFF Bolton Metal Alliance Gigs/FREE ENTRY and drinks promos at All GASH/CIDERSPILLER Gigs/Parties. We are working on it geting you a pound off at Hawthorns etc etc...]

GASH XMAS BLITZ>>
SATURDAY DECEMBER 18th!!!
7pm....
[LOADS of live bands from all over the WORLD!! /Sick DJs/Free entry/GASHcard Promos/Heavy Drinking/SEX/DEATH!!!!]

New Galleries
You may have noticed that we've added a couple of galleries to the menu on the left. We have a few of our old flyers up for viewing and the Collision Gallery is up as well.
The Collision webpage has also been fully updated. See www.collision-uk.tk !
Also remember to drop in and say hi on the forums.

Collision a Success!
Collision went really well on Saturday night. We got loads of people and the DJs were fantastic. Read more at the Collision forums. There should be photos up later.
I've updated the Collision website as well.

Collision On Saturday
Remember that Collision is on this Saturday at The Park Nightclub in Manchester, UK. For more details see www.collision-uk.tk.
We'd love to see as many people as possible there.

GASH Presents...
[collision @ the park nightclub]
Grosvenor St. off Oxford Rd. Manchester
SATURDAY NOVEMBER 20 - 10pm - 3am
See www.collision-uk.tk for more details!